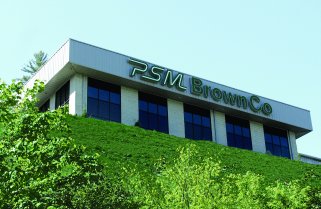 Powder Metallurgy is one of today's fastest-growing and most exciting technologies.
The advantages of Powder Metallurgy are undeniable. Not only does it give manufacturers new options for components that match traditionally-manufactured parts in strength and quality, it also leads the pack in affordability, convenience, and value.
PSM BrownCo's top-quality parts, affordable prices, and outstanding customer service add up to a significant advantage for manufacturers.
The PSM BrownCo Advantage can give your operation the leading edge.
• Facilities
The PSM BrownCo industrial complex includes a 40,000 square foot manufacturing facility housing standard and multi-action presses ranging in capacity from 12 to 550 tons and our own in-house machine shop.
Our production equipment includes complete vacuum impregnation systems, vibratory screen for powder processing, vibratory finishing equipment, and grinders.
• Engineering & Design
PSM BrownCo's skilled Engineering & Design department is available to aid in part design and material selection.
• Quality Production
Systematic quality control at our facility results in minimal levels of product non-conformance and scrap. While we use the most advanced equipment to physically test our products' metallurgical and dimensional characteristics, equipment is only part of the story: our people make the difference.
Responsibility for quality is shared by all PSM BrownCo employees, from the shop floor to Customer Service, and the practices and procedures all PSM BrownCo personnel follow are the first line of defense in preserving the highest quality levels.
• Materials
In addition to traditional ferrous structural and non-structural parts, PSM BrownCo also produces parts in a wide range of alloys such as brass, bronze, aluminum, stainless steel, and many other materials.
• Product Line
PSM BrownCo produces many different P/M parts for a wide variety of industries, including automotive, lawn and garden, home appliance, electrical, and many more.